Proposition 19, also known as the Regulate, Control and Tax Cannabis Act of 2010, is a California ballot proposition which is on the November 2, 2010 California statewide ballot as an initiated state statute. It would take effect the day after the election.[1]
Proposition 19, if approved by voters, will legalize various marijuana-related activities, allow local governments to regulate these activities, permit local governments to impose and collect marijuana-related fees and taxes, and authorize various criminal and civil penalties.[2] Proposition 19 was certified for the November statewide ballot on March 24, 2010.[3] The official proponents of the measure are Richard Lee and Jeffrey Wayne Jones. Tax Cannabis 2010 is the official advocacy group for the initiative.
11 California cities have local ballot measures on their November 2 ballot that would allow them to tax recreational marijuana if Proposition 19 passes.
Current legal status
[
]
Gov. Arnold Schwarzenegger signed SB 1449 on October 1, 2010. Effective January 1, 2011, SB 1449 turns the possession of less than an ounce of marijuana from a criminal misdemeanor into an civil infraction.
Medical marijuana is already legal in California, due to the enactment of Proposition 215 in 1996.
United States Attorney General Eric Holder said the federal government will "vigorously enforce" laws governing marijuana as a "core priority" even if Proposition 19 passes.[4]
Text and title
[
]
Ballot title:
Legalizes Marijuana Under California but not Federal Law.
Permits Local Governments to Regulate and Tax Commercial Production, Distribution, and Sale of Marijuana.
Initiative Statute.
Official summary:
Allows people 21 years old or older to possess, cultivate, or transport marijuana for personal use. Permits local governments to regulate and tax commercial production and sale of marijuana to people 21 years old or older. Prohibits people from possessing marijuana on school grounds, using it in public, smoking it while minors are present, or providing it to anyone under 21 years old. Maintains current prohibitions against driving while impaired.
Summary of estimated fiscal impact:
Savings of up to several tens of millions of dollars annually to state and local governments on the costs of incarcerating and supervising certain marijuana offenders. Unknown but potentially major tax, fee, and benefit assessment revenues to state and local government related to the production and sale of marijuana products.[5]
Effects of the bill
[
]
According to the State of California analysis, the bill will have the following effects.[2]
Legalization
[
]
Persons over the age of 21 may possess up to one ounce of marijuana for personal consumption.
May use cannabis in a non-public place such as a residence or a public establishment licensed for on site marijuana consumption.
May grow marijuana at a private residence in a space of up to 25 square feet for personal use.
Local government regulation
[
]
Local government may authorize the retail sale of up to 1 ounce of marijuana per transaction, and regulate the hours and location of the business.
Local government may authorize larger amounts of marijuana for personal possession and cultivation, or for commercial cultivation, transportation, and sale.
Allows for the transportation of marijuana from a licensed premises in one city or county to a licensed premises in another city or county, without regard to local laws of intermediate localities to the contrary.
Local taxes and fees
[
]
Allows the collection of taxes specifically to allow local governments to raise revenue or to offset any costs associated with marijuana regulation.
Criminal and civil penalties
[
]
Maintains existing laws against selling drugs to a minor and driving under the influence.
Maintains an employer's right to address consumption of cannabis that affects an employee's job performance.
Maintain existing laws against interstate or international transportation of cannabis.
Any person who is licensed, permitted or authorized to sell cannabis, who knowingly sells or gives away cannabis to someone under the age of 21 results in them being banned from owning, operating, or being employed by a licensed cannabis establishment for one year.
Any person who is licensed, permitted or authorized to sell cannabis, who knowingly sells or gives away cannabis to someone older the age of 18 but younger than 21, shall be imprisoned in county jail for up to six months and fined up to $1,000 per offense.
Any person who is licensed, permitted or authorized to sell cannabis, who knowingly sells or gives away cannabis to someone age 14 to 17, shall be imprisoned in state prison for a period of three, four, or five years.
Any person who is licensed, permitted or authorized to sell cannabis, who knowingly sells or gives away cannabis to someone under the age of 14, shall be imprisoned in state prison for a period of three, five, or seven years
Fiscal impact
[
]
In the time leading to 2010, California's state government's budget deficit has grown to be the largest of all American states. The California legislature has estimated that taxing the previously untaxed domestically grown $14 billion cannabis market would produce $1.4 billion a year,[6] Taxing cannabis, supporters say, could be a smart way to help alleviate pressure on the state budget.[7]
According to the California Legislative Analyst's Office, the following fiscal impact would result from the bill.[8]
Result in significant savings to state and local governments, potentially up to several tens of millions of dollars annually due to reduction of individuals incarcerated, on probation or on parole.
Cells currently being used to house cannabis offenders could be used for other criminals, many of whom are now being released early because of a lack of jail space.
Reduction in state and local costs for enforcement of cannabis-related offenses and the handling of related criminal cases in the court system, providing the opportunity for funds to be used to enforce other existing criminal laws. The RAND Corporation has found that law enforcement costs for cannabis enforcement are approximately $300 million a year.
Potential increase in the costs of substance abuse programs due to speculated increase in usage of cannabis, possibly having the effect of reducing spending on mandatory treatment for some criminal offenders, or result in the redirection of these funds for other offenders.
The measure could potentially reduce both the costs and offsetting revenues of the state's medical marijuana program as adults over 21 would be less likely to participate in the existing program as obtaining cannabis would be easier, thus making use of existing medical marijuana program unnecessary.
There would be a reduction in fines collected under current state law but a possible increase in local civil fines authorized by existing local laws.
The cumulative effect on fines is largely unknown.
Support
[
]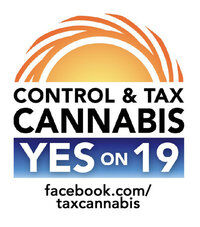 Supporters
[
]
For a full list of supporters, see Supporters of Proposition 19, the California Marijuana Legalization Initiative.
Arguments in favor
[
]
If passed by the voters on November 2, 2010, supporters argue that Proposition 19 will:
Create between 60,000 and 110,000 new jobs in California[47]
Generate between $1.2 billion and $1.4 billion in new direct tax revenue annually[47]
Expand California's economy by between $16 billion and $23 billion annually[47]
Free up law enforcement resources to focus on violent crime and property crime.[46]
Reduce environmental damage to California's public lands from illegal grow operations.[53]
Reduce state expenditures by over $200 million in law enforcement costs for arrests, prosecutions and imprisonment of cannabis users. [47]
Improve the relationship between police and the communities they serve. [57]
Reduce alcohol's cost to society by allowing adults to choose a safer alternative[58]
Opposition
[
]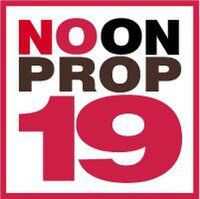 Opponents
[
]
Arguments were submitted to the official California Voter Guide urging a "no" vote on Proposition 19, as were rebuttals to the arguments provided by Prop 19 supporters. The signers of these arguments were:
Dianne Feinstein, U.S. Senator[59]
Laura Dean-Mooney, national president, Mothers Against Drunk Driving[60]
Steve Cooley, District Attorney
Kamala Harris, District Attorney
Kevin Nida, president, California State Firefighters Association[61]
Arguments against
[
]
The main themes of the arguments made against Proposition 19 by its opponents in the official California Voter Guide are:
The way Proposition 19 is written, it "will prevent bus and trucking companies from requiring their drivers to be drug-free. Companies won't be able to take action against a 'stoned' driver until after he or she has a wreck, not before."[61]
Enactment of Proposition 19 will endanger school children because "A school bus driver would be forbidden to smoke marijuana on schools grounds or while actually behind the wheel, but could arrive for work with marijuana in his or her system."[61]
"Proposition 19 could cost our K–12 schools as much as $9.4 billion in lost federal funding", according to public school superintendent John Snavely, Ed.D., because the schools wouldn't be able to comply with federal government grant requirements.[61]
Employers in California that bid for public contracts and grants that are ultimately funded by the federal government would no longer be eligible for those contracts and grants if Proposition 19 passes because Proposition 19 would prevent them from being able to "effectively enforce the drug-free workplace requirements outlined by the federal government". This would result in further harm to California businesses and their workers, according to the California Chamber of Commerce: "Proposition 19 creates special rights for employees to possess marijuana on the job, and that means no company in California can meet federal drug-free workplace standards, or qualify for federal contracts. The California State Firefighters Association warns this one drafting mistake alone could cost thousands of Californians to lose their jobs."[61]
Proposition 19 doesn't include a definition of "driving under the influence" and as a result, it is opposed by the California Police Chiefs Association because it could lead to a situation where a driver can legally drive "even if a blood test shows that they have marijuana in their system."[61]
Employers would not be able to pre-emptively remove workers who smell of marijuana use from sensitive jobs such as operating heavy machinery or running medical lab tests but would instead have to wait to take action until after an accident occurs.[61]
Other arguments that have been made against Proposition 19 include:
Problems exist from tobacco and alcohol being legal, why add another to the mix?[62]
Due to California's strong law against legislative tampering with what voters enact via the ballot initiative process, if Proposition 19 is passed and is later found to have unexpected negative secondary consequences, the California State Legislature will be unable to effectively address those problems.[63]
Legalization would likely bring with it additional substance abuse in the state, and the long-term public costs associated with that could vastly exceed the amount of new revenue legalized marijuana might bring in."[64]
It could would lead to an unintended side effect of additional regulation on how many plants a medical marijuana patient may grow and the possible pricing out of smaller distributors.
Opposition to taxation of any kind on marijuana.
Would lead people to consume marijuana without the advice or guidance of a medical professional.
Allegations that the act does not do as the ballot title specifies and is misleading as written.[65]
Prop 19 would make it more difficult for police to perform warrantless searches[66]
Donors against
[
]
Five campaign committees have registered with the California Secretary of State to spend money to defeat Proposition 19. They are:
"Nip It In the Bud: No on Prop. 19"
"Crusades for Patients Rights - No on Prop 19 Sponsored by Canna Care"
"Public Safety First - No on Prop. 19, A Project of People Against Prop. 5 Deception"
"Citizens Against Legalizing Marijuana"
"Committee Against the Legalization of Marijuana, A Committee Against Prop. 19"
Through October 1, donations of $10,000 or more to the "No on 19" campaign effort have come from:
California Police Chiefs Association | $30,000
San Manuel Band of Mission Indians | $25,000
California Narcotics Officers Association | $20,500
California Beer & Beverage Distributors | $10,000
Although the $10,000 contribution from the California Beer & Beverage Distributors is very small by California ballot proposition standards of recent years, it nevertheless attracted a press release from Steve Fox, the government relations director for the Marijuana Policy Project saying, "Unless the beer distributors in California have suddenly developed a philosophical opposition to the use of intoxicating substances, the motivation behind this contribution is clear. Plain and simple, the alcohol industry is trying to kill the competition."[67]
Federal laws
[
]
Marijuana is illegal under federal laws. If marijuana becomes legal in California under state law, it will still be federally illegal. The U.S. Supreme Court has previously ruled that federal agents can arrest medical marijuana users and growers even though Proposition 215 makes that behavior legal in California.
Legal scholars, considering what might happen if marijuana is fully legalized in California, have said:
The federal government would not be able to require California law enforcement agencies to help them enforce the federal law.
Federal law enforcement officers can continue to arrest and prosecute the use, sale, possession or production of marijuana in California.
As a matter of practice, most marijuana arrests are made by state law enforcement officers. In 2008, there were 847,000 marijuana-related arrests throughout the country. About 6,300 of these arrests were performed by federal agents. That's less than 1% of all marijuana arrests.[68]
Drug Free Schools and Community Act:
At least some universities within the State have said that they would continue to prohibit marijuana on campus because the federal Drug Free Schools and Community Act (DFSCA) requires that they certify that campus policies prohibit illegal drugs. Drugs presumably would be deemed illegal based upon federal standards. Failure to comply with the DFSCA can lead to a loss of all federal funds.[69]
External links
[
]
Basic information
[
]
Supporters
[
]
Opponents
[
]
Additional reading
[
]
Videos
[
]
References
[
]

This page was copied in part from ballotpedia.org whose content is available under GNU Free license.