By: SickMeds Seeds

Name: Green Crack
Type: 75% Sativa
Line: Green Crack x Green Crack
Flowering: 49 - 55 Days
Outdoor: Mid September
Yield: 450g/m2
Cannabinoids: THC 18.7%, THCV 0.9%, CBD 0.0%, CBG 0.6%, CBN 0.3%, CBC 0.7%

Originally titled Green Cush, just Cush or Lillie Coy when it was released as a clone only, this mango/papaya smelling beauty its a '89 SSSC Skunk#1 crossed with a mysterious Californian Indica.
This strain is very easy to grow and barely need any attention from its grower, if vegged bit longer, will surprise with descent yield around 450-500g per square meter indoor. She like to be trimmed from the bottom "lollipopped" and left with single cola.
Green Crack also have a tendency to turn purple in colder temperatures making it really nice treat for Your eye, effects are very uplifting and energetic but don't be fooled this is strong weed !

Medical uses: Stress and pain.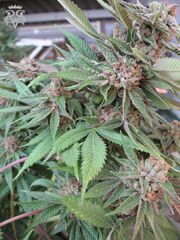 See also
[
]
References
[
]