Moon Cheese seeds available at www. FlyingSkunkRanch.com  is a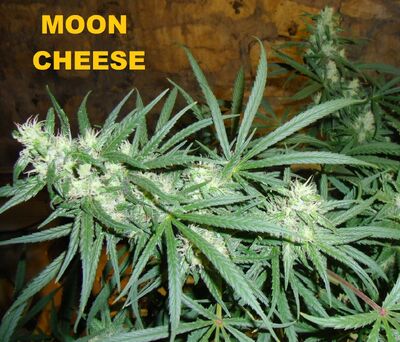 vigorous sativa hybrid developed at the '70s Bush Seed Co by crossing the famous Exodus UK Cheese with a Brazilian sativa male. The outcome is pure and amazing in potency and medicinal effects.
The sea-foam green leaves show off the flowers that form as fat bracts and foxtail colas. Very unique looking bud.
Sweet, tart and old-school flavors cause a mouth watering sensation. Skunky, faint lemon/lime Bottle Caps candy taste and funky odor that begs to be smoked.
Moon Cheese brings back the old school flavor and potency often missing in todays hybrids. It is memorable, flavorful bud.

Breeder: '70s Bush Seed Co.
Flower cycle: 65 Days hydroponics
Odor: Old school funk, dairy cheese, tart yet sweet skunky
Taste: Sweet skunky, old school flavors, faint lemon/lime Bottle Caps candy
Effect: Speedy, Active, Creative, Motivational, Clear, Pain Relief
Genotype: Sativa dominant hybrid
_____________
The Moon Cheese clone really stretches in flower, easily doubling in size yet stays well balanced and requires very little training. Robust vigorous sativa-skunk hybrid with suprisingly less odor than her mother in bloom. A shape shifter that appears indica during vegetative growth turning very sativa upon flowering. Flowers form on tips of branches as foxtailed colas with lots of resin, no popcorn buds, very easy to trim with few, thin fan leaves. A joy to grow and a top shelf medical cannabis strain highly recommended.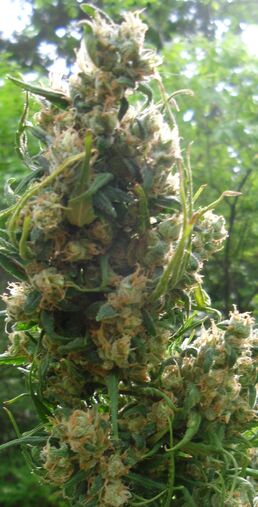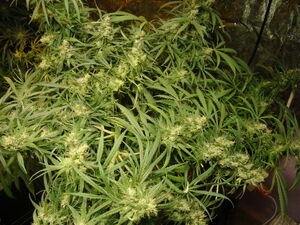 Moon Cheese is one of the fastest blooming sativa varieties at 65 days......from hybrid vigor passed on by the true-breeding Cheese mother.... with memorable flavor and potency passed on by the Brazilian father, you get quality genetics for the medical patient and top shelf grower.
Moon Cheese aka Luna Queso has proven to be very useful in pain reduction.  Skunk sativa soaring high lasts quite some time.  New users beware.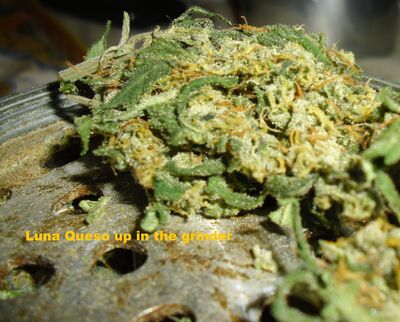 Heavy oil production with an abundance of white trichomes is a trait passed on by the Brazilian father.  Moon Cheese has all the good traits of her mother but with better hybrid vigor, more potency and still finishes under 10 weeks!

Opaque pistils of golden yellow and burnt orange contrast nicely with the drifts of white crystals. 
Nice dense nuggets with great bag appeal.  Moon Cheese is sure to become your new favorite. 
"Luna Queso" is very happy to join the ruling class Skunk #1 family!

Please visit us at  " flying skunk ranch . com"  for Moon Cheese information.